Physicians Dialysis announces the relocation and rebranding of its New Port Richey facility as Physicians Dialysis Trinity
North Miami Beach, Florida, September 22, 2014 – Physicians Dialysis announces the relocation and opening of its New Port Richey, Florida facility. In conjunction with the relocation, the facility is being rebranded as Physicians Dialysis Trinity to better reflect its new home on the Trinity Hospital campus. The new clinic was designed with patient comfort and convenience in mind. Every station in the spacious treatment area is equipped with premium recliners as well as individual touch screen TV's and internet tablets.
The facility has added additional in-center treatment stations along with its high quality home program with peritoneal dialysis suites for those who chose that modality. Additionally, the program offers home hemodialysis and staff assisted home dialysis. Physicians Dialysis Trinity's new home is in the Medical Arts Building located on the Trinity Hospital campus. The address is 9332 State Road 54, Suite 306, Trinity, FL 34655. Please call us at (727) 848-0106 to schedule a tour of our new state of the art facility.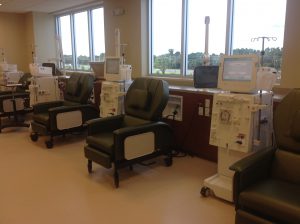 For more than 25 years, Physicians Dialysis has been delivering comprehensive, worry-free dialysis solutions in a number of environments – including its clinics, patients' homes, correctional institutions, hospitals, and long term care facilities. The company, headquartered in North Miami Beach, Fla., currently provides dialysis services in Florida, North Carolina and South Carolina.